Agricultural research is conducted towards improving efficiency and quality
---
Current projects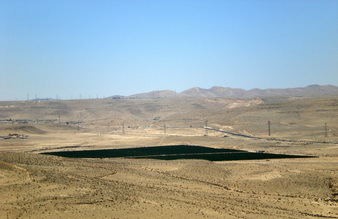 Advection in an isolated drip-irrigated wine vineyard in the desert
​Vineyards are increasingly cultivated in arid areas, and while traditionally rain-fed, under arid conditions, irrigation is indispensable. Evapotranspiration in irrigated fields in arid environments can be enhanced by advection of sensible heat from the dry areas outside the vineyard, as well as from dry areas within the field. The aim of this research is to understand how local and within field advection affects the energy balance of the vineyard.
---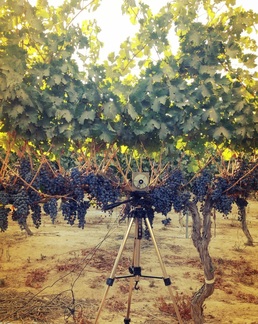 Manipulating bunch microclimate to enhance grape quality in arid environments
The distinct taste of wine is the result of an interplay between multiple plant endogenous and environmental factors, as well as fermentation and wine processing. In arid regions, the combined effect of high leaf-to-air vapor pressure gradients and high temperature are known to limit grapevine yield, negatively affecting berry development and metabolism. Over-exposure of the cluster is a common phenomenon, which can lead to sun-burn and degradation of quality-related secondary metabolites. On the other hand, there is evidence that berries that develop in open canopy conditions, as opposed to those develop in shaded canopy conditions, have higher juice sugar concentration, improved acid balance, fewer incidences of unripe herbaceous fruit characters, and often increased concentration of berry phenolics, including anthocyanins. Many environmental stresses are known to affect the synthesis of desired metabolites in the berry's skin. However defining the most appropriate fruit conditions for yielding best grape quality is not trivial and experimentally challenging. The long-term aim of this research is to define a set of optimal viticulture practices to improve grape berry quality in semiarid environments by manipulating the bunch micro climate, and elucidating their association with the berry chemical composition.
---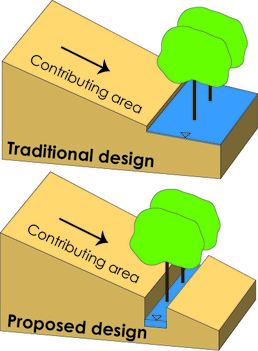 Optimizing water harvesting systems
For thousands of years man in arid environments has tried to skillfully manage the scarce water resource by collecting runoff water and utilizing it for irrigation. Water harvesting methods formerly developed for mere existence are nowadays receiving renewed attention. Micro-catchment water harvesting systems, used in many dryland areas around the world, are systems by which runoff is being collected from a contributing area and stored for consumptive use in the root zone of an adjacent infiltration basin. Conservation of harvested water by minimizing losses mainly involves reducing direct evaporation. Traditionally, the infiltration basins of micro-catchment systems were at the surface level. It is proposed that by replacing the shallow infiltration basin with a trench, the amount of harvested water will not change, but due to the reduced evaporating surface and the attenuation of solar radiation reaching down to the trench floor, the evaporative loss will largely decrease. Under similar soil and meteorological conditions, the most dominant factor determining the amount of evaporation from the infiltration basin is solar radiation. The overall objective of this research is to optimally design the trench dimensions and orientation for minimizing solar radiation load by modeling the radiation reaching trenches at various configurations of size and orientation.
---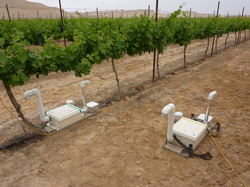 Evapotranspiration partitioning –
measurement methods
Soil evaporation (E) can be a significant component of the water budget of sparsely vegetated crops in arid areas where evapotranspiration (ET) typically accounts for >95% of the water budget. Evapotranspiration has long been one of the key interests in agriculture, as it continues to be one of the best estimates for biomass production and yield. Irrigation amounts are adjusted according to pre-computed potential ET values for specific crops. Today, there is a specific focus on reducing water application without reducing plant production, and therefore, differentiating between soil evaporation (E) and transpiration (T) is becoming more and more relevant. This is particularly valid for row crops and other sparse crops where soil is exposed under the plant canopy. Due to the complexity of soil and plant interactions, coupled with changes in atmospheric and soil water content conditions, this field still has a lot of opportunity for exploration. Quantification of the E component using measurements is challenging. Approaches include both direct measurements and measurements of water and/or energy balance components in order to calculate E and theoretical modeling approaches to predict E based on climate, soil and plant conditions. Direct measurement of E is, to date, the largest challenge to those addressing the issue.

---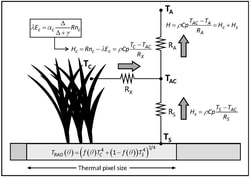 Evapotranspiration partitioning –
modeling approaches
Understanding of water and energy dynamics of agricultural crops is important for developing new tools and improving management practices. To be adopted for operational use, these tools need to be reliable, easy to use, and cost effective. While some of the existing measurement methods provide reliable estimates of water and energy fluxes and are widely used, their cost and operational requirements limit their utility to research applications. Models that require minimal amount of input data from which accurate ET estimates can be derived are highly desirable. We work towards achieving this goal in two directions. (1) HYDRUS - describes the soil water and energy movement in the uppermost soil layer and provides local scale estimates. (2) Two source energy balance (TSEB) - utilizes thermal remote sensing data to describe the energy exchange across the soil-plant-atmosphere continuum, focusing of the above ground dynamics, from which spatially distributed ET maps are derived, at field, landscape, and regional.

---
Past projects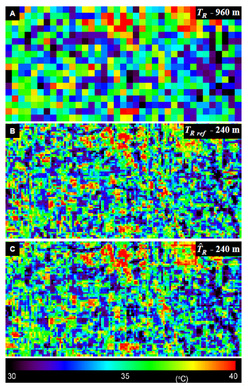 Develop an algorithm for sharpening thermal imagery (TsHARP)
High spatial resolution (~100 m) thermal infrared band imagery has utility in a variety of applications in environmental monitoring. However, currently such data have limited availability and only at low temporal resolution, while coarser resolution thermal data (~1000 m) are routinely available, but not as useful for identifying environmental features for many landscapes. An algorithm for sharpening thermal imagery (TsHARP) to higher resolutions typically associated with the shorter wavebands (visible and near-infrared) was examined. This algorithm is based on the assumption that a unique relationship between radiometric surface temperature (TR) relationship and vegetation index (VI) exists at multiple resolutions. Four different methods for defining a VI-TR basis function for sharpening were examined, and an optimal form involving a transformation to fractional vegetation cover was identified.

---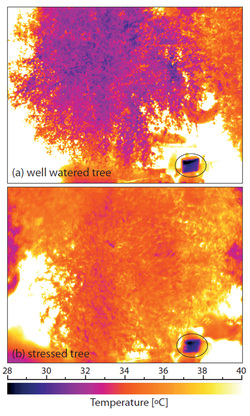 Assessing olive tree water status with the Crop Water Stress Index (CWSI)
Optimization of olive oil quantity and quality requires finely tuned water management, as increased irrigation, up to a certain level, results in increasing yield, but a certain degree of stress improves oil quality. Monitoring tools that provide accurate information regarding orchard water status are therefore beneficial. Among the various existing methods, those having high resolution, either temporally (i.e., continuous) or spatially, have the maximum adoption potential. One of the commonly used spatial methods is the Crop Water Stress Index (CWSI). The objective of this research was to test the ability of the CWSI to characterize water status dynamics of olive trees as they enter into and recover from stress, and on a diurnal scale. CWSI was tested in an empirical form and in two analytical configurations, all based on canopy temperature extracted from thermal images. The empirical CWSI was found promising even given its limitations, while analytical forms of CWSI still require improvement before they can be used as a water status monitoring tool for olive orchards.

---